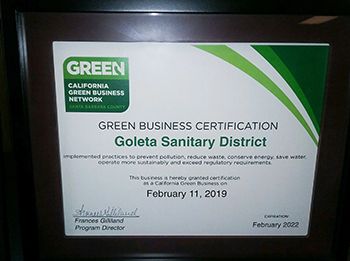 Green Business Practices
We're a Certified Green Business
At a luncheon honoring local businesses in March 2019, the District was recognized as a Certified Green Business by the Green Business Program of Santa Barbara County, having been certified in February 2019. Established by the California Green Business Program, the process assesses Energy, Waste & Recycling, Pollution Prevention, Water Conservation, and Wastewater practices. A checklist of tools is used to evaluate business operations, determine sustainability measures already in place, and implement additional measures to earn certification. The District has been a proud supporter of the Green Business Program for many years, encouraging and supporting other local businesses to go green. The Green Business Program of Santa Barbara County (GBPSBC) is part of a network of green businesses and government agencies statewide.
Green Business Program
The Goleta Sanitary District is a member of the Green Business Program of Santa Barbara County. This program offers incentives and assistance to encourage businesses to implement actions that protect, preserve, and improve the environment above and beyond compliance with applicable regulations. Businesses meeting these criteria can be certified as "green" businesses. The Green Business Program provides checklists to businesses interested in becoming green, certifies businesses through on-site evaluation, and highlights these businesses in the community through marketing and outreach.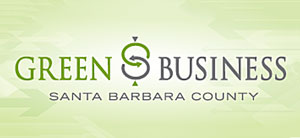 How to Become a Green Business
Contact the Green Business Coordinator. This email address is being protected from spambots. You need JavaScript enabled to view it.

Fill out an initial application, and agree to a compliance check to assure compliance with existing environmental regulations.

Complete applicable checklist for your type of business. A certain number of measures must be implemented to qualify for certification.

An onsite evaluation will be conducted to verify practices reported on the checklist and to offer further suggestions and guidance if needed.
Upon completion and verification of these steps, the business will be awarded Green Business Certification. Certification includes a window decal with a program logo, an electronic version of the program logo, a summary of evaluation findings and recommendations, listing in the directory of Santa Barbara County Certified Green Businesses, and marketing assistance through the Green Business Program website.
For more information contact the Green Business website.
Explore the BESP: The District's Guide to Energy Independence