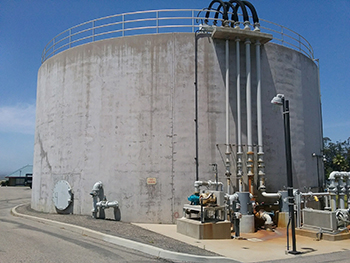 Asset Management
The Goleta Sanitary District has been able to consistently maintain low sewer service fees by operating and maintaining its infrastructure in an efficient and cost-effective manner while delivering exceptional levels of service. As critical assets and equipment age, the District implements timely repair and/or replacement based on a comprehensive asset management program (AMP). The goal of the AMP is to maximize the useful life of individual assets to reduce their overall lifecycle cost.
In order to implement an effective AMP, the District developed a detailed inventory of thousands of individual assets. Each asset was categorized and its replacement cost, age and condition were considered in order to determine when it would likely require maintenance, repairs or replacement. This information is used to prioritize and schedule needed repairs and forecast ongoing investment needs.
In this age of decreasing budgets, the District's AMP helps maximize the return on investment and provides sound, defendable, data-backed decisions to find the right balance between funding immediate needs and maintaining reserves for long-term capital expenditures.
The Story of an Innovative Approach to Asset Management Planning

The District has been working with consultants, Hazen and Sawyer, to develop the best plan forward to manage all of the District's assets. This means that all of the buildings, pipes, machinery, equipment, and items of value are evaluated to determine their lifespan and identify and prioritize high-need areas so we can plan for their eventual replacement. In April 2023 the District's Collection System Manager, Luis Astorga, and representatives from Hazen and Sawyer gave a presentation to the California Water Environment Association's members detailing the innovative process developed to plan for the District's future. The strategic planning approach is data-driven and is guiding all decision-making for the projects and plans to come. Innovative computer models weigh projects on a variety of measures including long-term energy neutrality, a cost/benefit analysis, and practicality for our district. More information regarding the innovative tools used by the District for planning will be forthcoming. In the meantime, to learn more about the Asset Management Plan, click on the link below.