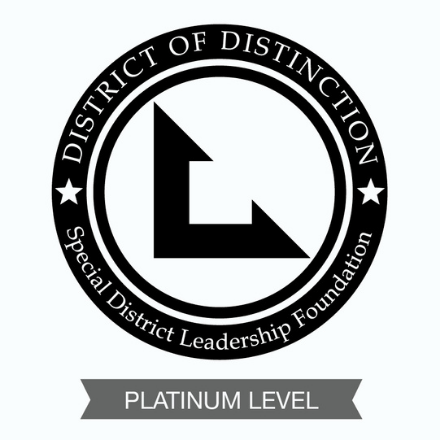 District of Distinction
The Goleta Sanitary District is proud to announce that it has once again been awarded the District of Distinction, Platinum Level accreditation from the Special District Leadership Foundation for sound fiscal management policies, excellence in board and executive governance, public transparency, and district operations. GSD is the only special district in the County to receive this highest-level recognition.
For more information about the Special District Leadership Foundation's programs, including the District of Distinction visit, http://sdlf.org/programs.
On September 26, 2018 the District received the Platinum Level District of Distinction award from the Special District Leadership Foundation. This prestigious honor was given to the District for successfully implementing a comprehensive list of high level transparency and good governance practices. The District had already been awarded the Transparency Certificate of Excellence in 2017, which was one step toward earning this award. Our entire Governing Board received a certificate of completion for the California Special Districts Association (CSDA) Leadership Academy, earning them Recognition in Governance in April 2018, another step toward the District of Distinction honor. The Board of Directors and staff at Goleta Sanitary District are proud to have earned this recognition, and look forward to renewing it in 2021.
The Special District Leadership Foundation (SDLF) is an independent, non-profit organization formed to promote good governance and best practices among California's special districts through certification, accreditation and other recognition programs.