Each of the five governing board members is elected at large and serves a four-year term. Terms are staggered and elections are held in November of even-numbered years. Candidates must be United States Citizens, at least 18 years of age and reside within the boundaries of the Goleta Sanitary District. Election procedures and deadlines may be obtained from the Santa Barbara County Elections Division located at 4440-A Calle Real, Santa Barbara, California 93110 or download here from the Assessor's website.
As part of the District's commitment to Excellence in Board Governance, on April 18, 2018, all board members of the Goleta Sanitary District were awarded certificates for completion of the California Special Districts Association's three day Special District Leadership Academy. This is one of the requirements for the District to be recognized as a District of Distinction. This honor is bestowed on Districts, their Boards, and Executive Teams for committing to transparency, having sound operating practices, completing comprehensive governance training for the entire Board, and receiving certification of the General Manager in administration and governance best practices. The Goleta Sanitary District has already earned the Certificate for Excellence in Transparency and is working on the criteria this spring and summer to qualify for the District of Distinction platinum level, demonstrating a comprehensive approach to excellence in district administration and governance. With the Board's success in completing this training, the District is one step closer to achieving this goal.
George W. Emerson, President
Boardmember since 1994
Sharon Rose, President Pro Tem
Boardmember since 2012
Jerry D. Smith
Boardmember since 2008
Robert O. Wageneck
Appointed July 2017, he was elected to the Board November, 2018.
Steven T. Majoewsky
Served on the board between 1986 and 2012. He was re-elected November, 2014.
Governing Board Standing, Ad Hoc and Other Committees see CA Form 806 dated 02/19/2019
Governing Board Administrative Code dated 7/01/19
Staff
Steve Wagner, P.E. - General Manager/District Engineer
Rob Mangus - Finance and Human Resources Manager
Lena Cox - Laboratory and Technical Services Manager
Luis Astorga - Collection System Manager
Laura Romano - Management Analyst
John Crisman - Plant Operations Manager
Todd Frederick - Operations Supervisor
Chuck Smolnikar - Facilities Maintenance Supervisor
Teresa Kistner - Industrial Waste Control Officer
Guisel Razo - Administration Supervisor
Shamus O'Donnell - Collection System Supervisor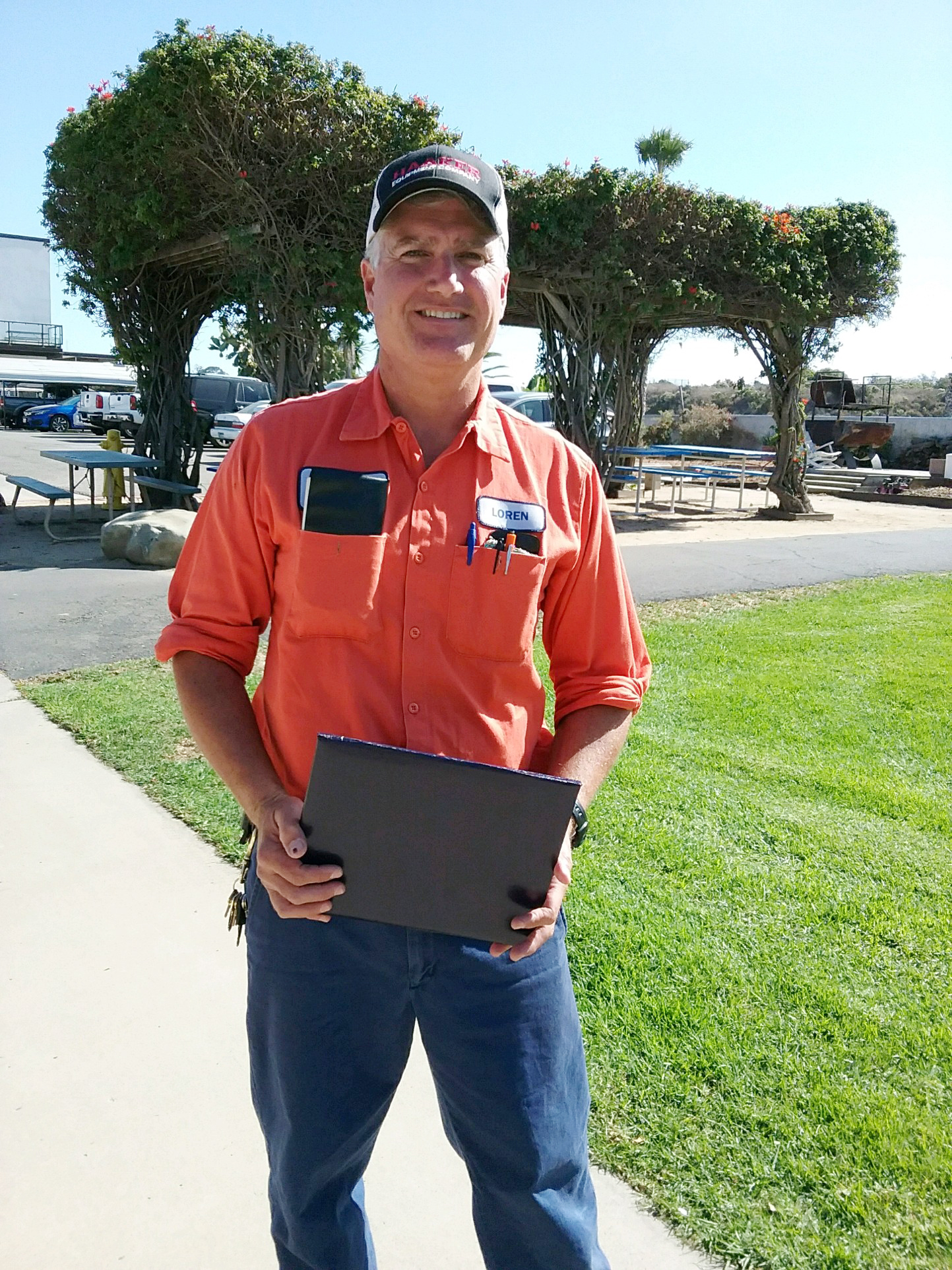 Employee
of the Quarter
Loren Barringer, Collection System Maintenance Tech II
Loren consistently demonstrates a very positive attitude and willingness to complete any assignment or job task. His friendly demeanor and courteous manner in dealing with his co-workers and the public have earned him the respect of staff and management. Loren teaches his co-workers and leads by example. Overall, his "can do" spirit and strong support of the District is evident in his daily work ethic."
---

Employee
of the Year
Carl Easter
The 2018 Employee of the Year who was nominated and recommended by staff is Carl Easter. Carl joined the District in 2003 as an entry level maintenance technician and has been promoted several times to his current position. He has an incredible work ethic, is very passionate about his work and is an inspiration to his coworkers.