Timeline of the New By-district Voting Map
Background and timeline of the final Board-approved by-district voting map
April 2022:
The Board Adopts Plan 1 map and sets the sequence of elections. The first two new districts which will vote on representation are districts newly numbered 2 and 3 on the Plan 1 map. This numbering lists all areas north of the 101 Fwy. as 1,2, and 3, and those south of the 101 Fwy. as districts 4 and 5. Voting districts 1, 4, and 5 will vote on representation in the November 2024 election.
March 2022:
The Governing Board of Goleta Sanitary District met on Monday, March 21st, and selected the Plan 1 map as the preferred map for voting districts. Plan 1 meets the criteria for the creation of district-based elections and will be used in the November 2022 election cycle. Voters from the individual districts who have seats up for election, (currently voting districts 3 and 5 in the numbering as of March 21, 2022) will be able to vote for representatives who live in those districts. The other three districts will have representatives up for election in November 2024. For more information, please contact Laura Romano at This email address is being protected from spambots. You need JavaScript enabled to view it..
Here are the draft map plans that were considered (the numbering may be different from the final plan):
Note: click the images for a larger size or download them as PDFs below.
The Acrobat PDF reader that's built-in to the browser would take over and provide much higher detail. (You can edit the zoom feature under the view tab)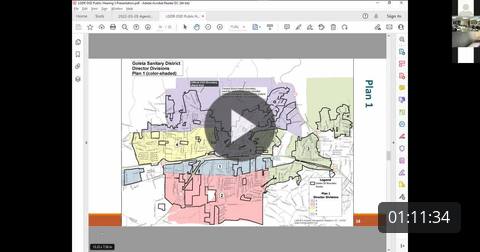 As you may know, the Goleta Sanitary District is transitioning to a district-based elections of directors.
Help us create new voting district boundaries by attending our public hearings and giving input on communities of interest. These sections split the service area of the District, and may be used to identify communties of interest. Communities of interest are contiguous areas in which people share social and economic interests and should be in a single election district, because their community of interest may be affected by the policies of the GSD Board of Directors. We encourage all members of the public to use these maps to identify and draw what they believe are important communities of interest to be maintained in the District's transitioning effort from one at-large election voting area to five by-district voting areas. You can submit information to us via US mail: Goleta Sanitary District Attn: Laura Romano, 1 William Moffatt Place, Goleta, CA 93117 or via email if you like, to This email address is being protected from spambots. You need JavaScript enabled to view it.. For more information contact Laura Romano at This email address is being protected from spambots. You need JavaScript enabled to view it. or the number below. We encourage the public to submit any map ideas or sketches to this google form:https://forms.gle/6uTb6W47WHN4ubqX9
Here are the slides that were shared during the public hearing which are available to download now.
UPDATE: FIRST DATES OF PUBLIC HEARINGS SET
The District has scheduled the first round of public hearings for Monday, Nov. 1st, 2021 at 6:30 p.m. and Saturday, November 20th, 2021 at 11:00 a.m. Both meetings are scheduled to be held at the District's headquarters at 1 William Moffett Place across from the Santa Barbara Municipal Airport. Members of the public can learn about the process of transitioning to district-based elections and how they can help draw the new voting boundaries. For more information, please contact Laura Romano, This email address is being protected from spambots. You need JavaScript enabled to view it. or call 805-967-4519 x.128.
A second round of public hearings to receive community input on draft maps is tentatively scheduled for March 2022.
Changes Coming to GSD's Election Process
The Goleta Sanitary District is embarking on a process to change from at-large elections to district-based elections. In 2018 the District approved a resolution declaring its intent to change from an at-large election system to a district-based system once the results of the 2020 census are available.
Currently each of the five governing board members is elected at-large (from anywhere within the District's service area). In the future, one governing board member will be elected from each of five separate voting districts. The voting districts will be developed based on the new 2020 census data and input from the community. Moving to district-based elections will help ensure equal representation for all areas within the District's service area.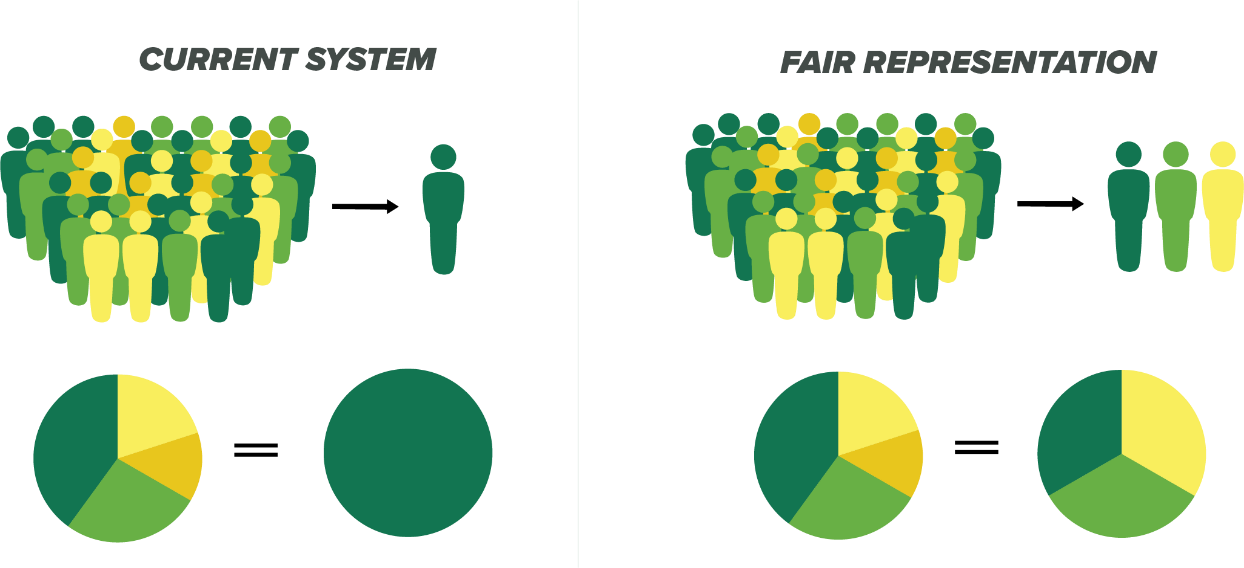 The Goleta Sanitary District is one of several local governments which will be changing to district-based elections (others include the City of Goleta and the Goleta Water District). The District is working with Lapkoff and Gobalet Demographic Research Inc. to develop potential boundaries of the five voting districts that are sensible, geographically contiguous areas with near equal populations. There will be several public meetings throughout this process with opportunities for public input. If all goes as planned, the first district-based election will be held in November 2022.
Because the District's Board of Directors recognizes the importance of making sure that all residents of the Goleta Sanitary District will be fairly represented and have opportunities to participate in the transition process, this page will be updated as meetings and hearings are scheduled, or any new changes are known.
What's the difference between "at large" elections and "district-based" elections?
We currently have an at-large election system, where voters in the entire Goleta Sanitary District service area elect all members of the Board of Directors. "By-district" elections divide the jurisdiction into geographic districts. Voters in each district choose their Director, who must also live in that district. Registered voters will not be able to vote for Board of Directors candidates from districts in which they do not reside. Under the timeline adopted by the Board of Directors, a series of hearings and meetings are expected to take place beginning in the fall of 2021 with a final series of adoption hearings sometime in the spring of 2022. The first district-based elections will occur in November 2022.
What criteria are used to create election districts?
Many factors may be considered, but population equality is the most important. Other factors include:
Communities of Interest
Be compact
Be contiguous
Have visible (natural and man-made) boundaries
Include respect for past voter selections
Plan for future growth
What are communities of interest?
A community of interest is a neighborhood or community that would benefit from being in the same district because of shared interest, view or characteristics. Possible community features or boundary definitions include:
School Attendance Areas
Natural dividing lines such as major roads, hills, or highways
Areas around parks and other neighborhood landmarks
Common issues, neighborhood activities, or legislative/election concerns; and
Shared demographic characteristics, such as:

Similar levels of income, education, or linguistic isolation
Languages spoken at home; and
Single-family and multi-family housing unit areas
When election districts are created, who decides the boundaries?
A professional demographer is hired by the District to create proposed district boundaries, with suggestions and feedback from residents. Residents will be able to provide input on boundaries and suggested criteria for creating boundaries. The districting process will be transparent and accessible to all residents. Ultimately, the Board of Directors adopts an ordinance establishing district boundaries.
If you have any questions regarding the transition process, or have input regarding communities of interest, please email Laura Romano, Management Analyst: This email address is being protected from spambots. You need JavaScript enabled to view it..