Keeping the Flow
Goleta Sanitary District's constant focus on maintaining the collection system in top condition. Additionally, the District agressively promotes responsible use of our system to residents whose cooperations is essentail in keeping our system in operating efficiently and reduces maintenance needs. Resident's cooperation in not dumping grease and toxics into the system has helped protect everyone's safety as well as the environment. For more information on being a good steward of our system visit What 2 Flush.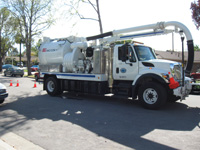 Preventative Maintenance
The District carries out a formal plan of preventative maintenance to stop problems before they occur. Pipelines throughout the collection system are cleaned on a routine schedule and then televised so staff can determine where additional maintenance is needed.
The District's "Combination Jet Rodder" truck cleans wastewater collection pipelines with powerful water jets and a debris vacuum system eliminates obstruction and prevents sewage spills.
Closed-Circuit Inspection
Field crews use a specially designed closed-circuit television camera that travels through the sewers, providing a detailed visual inspection of the District's pipelines. The system is more cost effective than having to dig up a pipeline every time a problem is suspected.
Digital Mapping
Goleta Sanitary uses a computer system called Geographic Information System (GIS) to create digital maps with accurate locations of roads, pipelines and buildings. Residents within the Goleta Sanitary District service area can receive a print-out of their sewer line connection.
Sewer Assessment and Prioritization Program (SAPP)
SAPP is used to access each collection system pipeline based on the pipelines hydraulic capacity, structural condition, operation and maintenance requirements and relative critical rating of the pipeline. The SAPP will be used by District staff in the future to update capital improvement programs.