Maintenance and Repairs
Keeping the Flow
Goleta Sanitary District's constant focus on maintaining the Collection System in top condition. Additionally, the District agressively promotes responsible use of our system to residents and businesses whose cooperations is essential in keeping our system operating efficiently and reducing maintenance needs. Residents' and business owners' cooperation in keeping fats, oils, and grease (FOG), toxic substances including medications, and inappropriate items, such as wipes and paper towels, out of the system has helped protect everyone's safety as well as protecting the environment. For more information on being a good steward of our system visit What 2 Flush.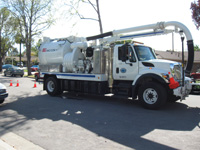 Preventative Maintenance
The District carries out a formal plan of preventative maintenance to stop problems before they occur. Pipelines throughout the collection system are cleaned on a routine schedule and then televised so staff can determine where additional maintenance is needed.
The District's combination trucks, the Vactor and Vaccon clean wastewater collection pipelines with powerful water jets and debris vacuum systems which eliminate obstructions and prevent sewage spills.
Closed-Circuit Inspection
Field crews use a specially designed closed-circuit television camera that travels through the sewers, providing a detailed visual inspection of the District's pipelines. The system is more cost effective than having to dig up a pipeline every time a problem is suspected. The public can view these vehicles, and the rest of the Collection System vehicles, every other year at our Open House.
Digital Mapping
Goleta Sanitary uses a computer system called Geographic Information System (GIS) to create digital maps with accurate locations of roads, pipelines and buildings. Residents within the Goleta Sanitary District service area can receive a print-out of their sewer line connection.
Asset Management Plant
The District uses an asset management tool to identify what assets (everything from District vehicles, to sewer mains, to pumps) need for future repairs, maintenance, and to estimate the asset's lifecycle so that we may prepare for capital expenses as part of an organized Capital Improvement Plan. This way the District can stay on top of potential areas for concern before they become critical. Having a robust asset management plan means the District can also manage expenses in a way that focuses capital finance expenditures on where they need to be, when they need to be. This management means that the District is well-positioned for sustainability of our infrastructure.