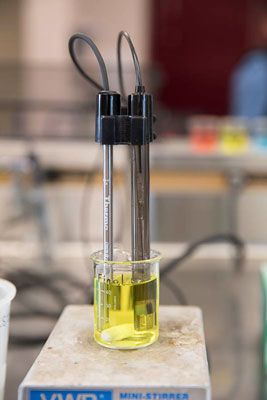 Lab
The District's on-site laboratory is certified by the California State Water Resources Control Board's Environmental Laboratory Accreditation Program. The laboratory staff performs routine sampling of the District's wastewater treatment plant processes and conducts testing of reclaimed water and wastewater for the purpose of plant process monitoring and National Pollutant Discharge Elimination System (NPDES) permit compliance. The laboratory provides high quality analytical results for reclaimed water and wastewater and reports data to various regulatory agencies. Over 600 tests are run each month by the lab staff.
The Laboratory is certified in three fields of testing: microbiology of drinking water (for reclaimed water monitoring), microbiology of wastewater, and inorganic chemistry of wastewater. To maintain certification, the analysts participate in proficiency testing sample analyses annually. The following list is for the specific testing the lab holds certification.
Total Coliforms (Drinking Water - SM9223B)
Total and Fecal Coliforms (Wastewater – SM 9221B, C, E)
Enterococci (Wastewater - Enterolert)
Total Oil & Grease (Wastewater – EPA 1664)
Turbidity (Wastewater – SM2130B)
Filterable Residue, TDS (Wastewater – SM2540C)
Nonfilterable Residue, TSS (Wastewater – SM2540D)
Settleable Residue (Wastewater – SM2540F)
Total Residual Chlorine (Wastewater – SM4500CL, G)
Hydrogen Ion, pH (Wastewater – SM4500H + B)
Biochemical Oxygen Demand (Wastewater – SM5210B)
The laboratory is staffed 365 days of the year with a team comprised of three full-time employees: two analysts and a manager. Operations staff also assist in the laboratory to provide shift coverage. The laboratory staff are certified Laboratory Analysts through the California Water Environment Association Technical Certification Program.