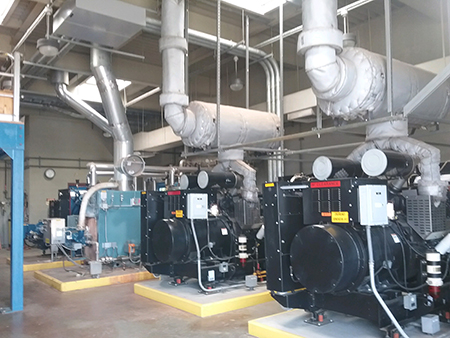 Energy
The District's vision includes energy self-sufficiency. At present, the District captures methane gas produced in its anaerobic digesters and uses it to heat the digesters. Approximately 40% of the gas produced is used for heating while the rest is flared off to protect the environment from exposure to greenhouse gases. The District has been analyzing ways to maximize methane gas production and convert all of it into electricity for use at the facility.
The result of this study is the Biosolids to Energy Strategic Plan (BESP). Over the next 5-10 years the District will be installing new equipment and machinery, including a new digester and a combined heat and power system to produce, capture and convert more methane gas created in the treatment process, to useable energy. This energy will power more of our facility, freeing the District of its reliance on the grid, and taking us steps closer to energy sustainability. Learn more about this exciting progress in this document:
In the fall of 2016, the District installed energy efficiency measures as part of a Water and Infrastructure and System Efficiency (WISE) project in collaboration with the Energy Network. These improvements included the installation of new energy-saving LED lighting throughout the plant and the installation of a smaller horsepower blower in the aeration basin. This is one of several ways the District works to promote energy self-sufficiency.