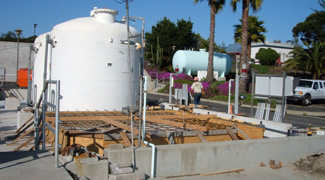 Capital Improvement Program
Master Plan
Goleta Sanitary District's Capital Improvement Plan (CIP) consists of a suggested schedule to rebuild or replace problematic major equipment items over a defined period of time. Projects are identified as near term, those to be completed in 1 to 5 years or as long term, those to be completed in 6 to 10 years.
Condition Assessment/Equipment Life Cycle
A rating system was developed to evaluate major equipment using three key criteria: physical condition, operation and maintenance costs, and technology. Based on the results of the rating grade, improvements are identified and prioritized with a suggested schedule for implementing the improvements.

Program Review
Status of the capital improvement projects are reviewed on a regular basis. New projects are identified and added to the list and priorities are re-evaluated with emphasis placed on those projects that have the greatest impact to improve overall treatment process efficiency.
Successful Projects
Past projects have replaced or refurbished worn or obsolete mechanical and electrical equipment, instrumentation and controls, and pipe valve configurations. These projects have included replacing the aeration air manifold in the solids contact channel, removal of a buried diesel tank, repair and relining of the headworks grit channels, and replacing the steel doors throughout plant. These projects have facilitated the flexibility and eases operation of the treatment plant.