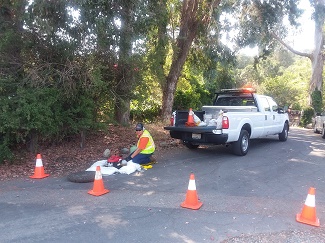 Sewer Spill Prevention
SSOs
The District has over 132 miles of sewer pipes which are cleaned and Closed Circuit Television (CCTV) inspected on a regular basis to prevent Sanitary Sewer Overflows (SSOs). Smoke testing is conducted to find and eliminate sources of groundwater, rain run-off and illegally connected yard/gutter drains that can overburden the collection system's ability to safely convey wastewater to the treatment plant. Restaurants and other commercial establishments that can discharge grease, oils and other detrimental materials are routinely inspected to ensure that these discharges do not cause SSOs.
Please Report Overflows
Please call the District at 805-967-4519, Monday-Friday 8:00 a.m.-5:00 p.m. or 805-564-7259 after 5:00 p.m. Monday through Friday, on holidays, and on weekends, if you notice sewage overflow from District manholes. However, sewage backups within homes or on private property are usually the responsibility of the property owner. In these situations, you should call a plumber.
Protect Your Side (Lateral) Sewer Line
Maintaining the side sewer line, known as a lateral, which connects a home or building to the main sewer line, is the responsibility of the property owner. The side sewer should never be broken or cut in order to connect a gutter or drain, or to run a plumber's snake. Tree roots, rodents, or contaminants can enter through a break, creating maintenance, health, and environmental problems.
Side Sewer Line (Lateral Line) Installation
See Section 7 of the District's Standard Specs for complete information regarding sewer line installation. The complete document is found on the "How to Connect" page.
Please Call Us Before Snaking Your Lateral (Side Sewer)
Goleta Sanitary District is happy to provide area residents with information on installing an approved clean-out access. Residents also should notify the District in advance when planning to have roots cleared from a lateral sewer. If manpower is available, the crew can monitor the main sewer and remove any root balls cut free from your lateral sewer, preventing the material from clogging the main sewer pipeline. The crews can also answer any questions relating to sewer line problems. Please call (805) 967-4519.
If Your Building Faces a Steep Road
Homes and buildings which front a steep road run the risk of sewer back-flow. Call the District to determine whether your property includes a proper backwater valve device.