Ocean Water Quality
Monitoring and Testing of Ocean Water Quality
Wastewater is tested at numerous locations in the treatment plant, during the treatment process and immediately as it leaves the plant. When it reaches the ocean, testing continues near the discharge pipe, half way to shore and in the surf zone.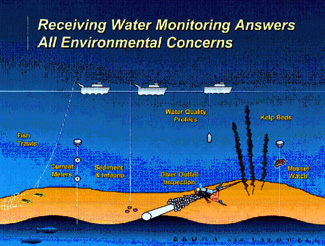 Annually, in October, a SCUBA diver inspects the outfall pipe from one end to the other. A video of the dive is recorded and a report is prepared that includes observations of the pipe's structural integrity and quality of the marine life living on and near the discharge pipe.
The District participates in the mussel watch program and monitors the ocean water quality on both sides of the outfall pipe along the historical offshore edge of the kelp bed, defined as the 60 foot depth contour.
Fish, shellfish, ocean plants and sediments from the ocean floor are also analyzed each year in the area surrounding the discharge and at reference locations for comparison.
The final component of the District's extensive ocean water monitoring program consists of weekly testing of seven surf zone locations for coliform and enterococcus bacteria.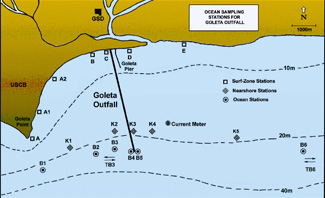 BEACH CLOSURES AND RESULTS OF WEEKLY OCEAN TESTING
Santa Barbara News Press Listing (Saturday)
Ocean Water Quality Hotline - 681-4949
Website: www.sbcphd.org